TITLE: Rhythm, Chord & Malykhin
AUTHOR: Mariana Zapata
Narrator: Carly Robins
TIME: (9hrs, 8 mins)
Blurb: Listening time 9 hours 8 minutes
Twenty-six-year-old Gaby Barreto might be a lot of things (loyal, sarcastic, one of the guys and a pain in the butt depending on which family member you ask), but dumb isn't one of them. When her twin brother invites her to go on tour as his band's merch girl, she isn't exactly screaming at the top of her lungs with joy.
With no job opportunities pounding on her door, an ex-boyfriend she would still like to castrate, and no end in sight to moving out of her parents' house in Dallas… it would be dumb to say no to the chance of a lifetime. Two bands, three continents, one tour. Spending the next ninety-plus days with three beloved idiots and eight complete strangers shouldn't be a big deal, right?
If only the singer of the headlining band didn't have tattoos… a great personality… a fantastic body… and if he wasn't so funny….
Let's be real: Gaby never had a chance against Sacha Malykhin.
Gaby Barreto just got dumped by her boyfriend of two years and kicked out of their apartment, all while not having secured employment after graduating with a degree in History.
So when her twin brother invited her to tour with his band as the head of Merchandising, she couldn't refuse. There she met Sacha Malykhin, lead singer of the other band on the tour, and they became instant friends.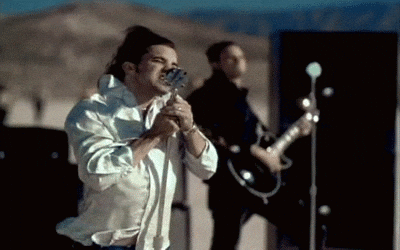 Anyone who has read a Mariana Zapata book knows that she builds friendships, simmering attraction and angst before she introduces the actual romance. So her books aren't about hot sex and stolen moments but they feature lasting bonds of romance.
That's why when I wasn't connecting with the audiobook initially, I put it down. I knew it was probably a mood thing and I was right. When I came back to it, I listened to the book in two days.
Gabby ("Flabby") and Sacha ("Sassy") were really cute. Their relationship was sweet and playful. Both characters felt authentic and relatable. I also enjoyed the camaraderie, even though at times it was over the top. Some of the playful instances, like taking a poop in a plastic bag and the name calling felt like High School than a college graduate age adults. That's why I docked the story half of a star. It was a bit juvenile and got old quickly. I did love the personal growth in how they dealt with the growing feelings between them. They always seemed to be aware of the other and in their own way, take care of the other. I like friends to lover tropes more than my friend's sibling trope and this book had both. Gabby and Sacha finally got on the same page that was soothing like beautiful music to my sould. (HEHEHEHE!)

On a side note: I am trying to remember how Gabby was portrayed in Kulti because that book was mentioned and Gabby was big into soccer. I may have to re-read Kulti sometime next year.
This book won't be in my Top 5 Mariana Zapata novels, but it is still an enjoyable read for those who prefer romance over steamy and smutty love stories.